Archive for 'Prologue'
20 items.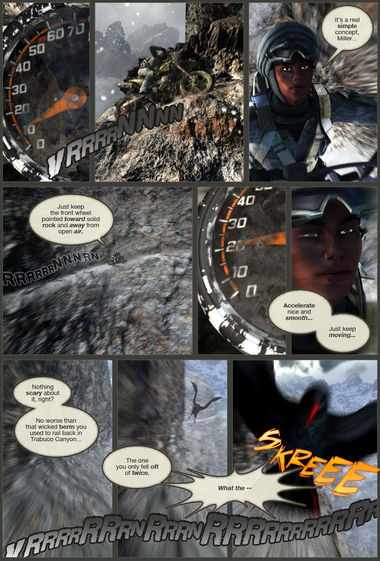 Process notes on the chapter so far:
Lt. Miller was built in Poser 7 using the DAZ Victoria 3 figure model, based on the character drawings from the original 2003 Spiders comic. Most of her clothing/gear was created in Maya 2009 and imported as OBJ files into Poser.
The landscape & environment are created in Maya 2009. The mountain trail is a soft-preview polygon with nested displacement maps to create the rock texture. (I'll post a tutorial on how I created this in a future update.)
The motorcycle is a stock model purchased from TurboSquid (http://www.turbosquid.com) and heavily re-textured in Maya.
The Spider-Bot models were built in Maya. At some point in the future I'll rig them up with workable skeletons and make them available as free downloads for Poser.
Music I listened to while working on this chapter:
Tangerine Dream's soundtrack to the movie Sorcerer (an excellent 1977 American remake of The Wages of Fear — check it out!)
Michael Nyman: Six Celan Songs, The Ballad of Kastriot Rexhepi
Optiv: "Brainworm," from the album Endangered Species